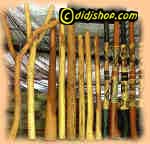 Is this your first visit to The Didjshop? If so, we suggest you start HERE.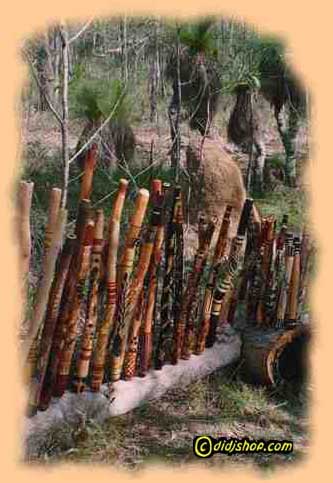 Our main information page provides links to other material about digeridoos and related topics.
Aboriginal Culture - a brief introduction to the culture of Australian Aborigines - the most ancient continuous culture on earth.
Boomerangs - The Didjshop has a selection of authentic Aboriginal boomerangs for sale, including burned, hook, painted, club and killer boomerang.
Artists - meet some of the Aboriginal artists who supply us with didgeridus and create the other Australian indigenous artefacts we sell such as bullroarers, boomerangs and clapstick sets.
How a didjeridoo is made - the traditional art of didgeridoo-making
Didgeridoo Buying Guide - a list of things you should check before buying a didgeridoo
Learn to play the didgeridoo - a one-hour 'learn to play the didgeridoo' tutorial video giving extensive instructions on circular breathing and lots of other useful information of value to beginners and advanced players.
Soundscapes - hear two didgeridoo players play a range of our didgeridoos - from high concert class didgeridoos to second class didjes. These players are of different skill levels. Listen - in downloadable MP3 - and compare results achieved with a range of didgeridoos by these two players.
FAQ's - Frequently Asked Questions about didgeridoos: how to play the digeridoo, circular breathing, didjeridoo maintenance & repair, what makes didjs sound different etc.
Visitors Book - see what Didjshop visitors and customers have to say about our website and customer service. You can add you own comments - and maybe a photo of you and your didgeridoo?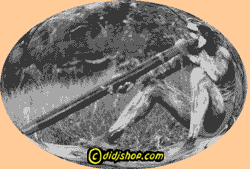 Didgeridoo World - a new gateway to the growing global community of didjeridoo enthusiasts. We need your help to add new information and keep this resource useful and up-to-date.
Send a FREE Didjshop Greeting Card!
WIN a superb concert class traveller's didjeridu... and be in the running as well to WIN a $50 Didjshop Gift Voucher - we give one away every month!
Like to see these choices - and more - all in one list? Check out our Sitemap.
Send your friends a didgeridoo sound greeting card!!!
Join the Didjshop's Monthly Newsletter Email List!
You can see our latest newsletter online.
The Didjshop Forum - join discussions about didgeridoos and anything related to it