October - November - December 2012 Newsletter from didjshop.com
Editorial
Seasons Greetings to all of you from Down Under; we hope you will all enjoy a healthy, happy and prosperous 2013.
For us the last few month were rather exciting. Let me tell you about some of it.
I have mentioned before that in 2009 together with some friends we formed a Cooperative. For those of you who do not know or remember, Kanjini Co-Op was formed to create a sustainable rural community.
Well Kanjini Co-Op now has eight members and six weeks ago we have signed a contract for a property, which has now gone unconditional with settlement to happen on 20-12-2012.
And what a property it is! Everything going well we will soon own 7500 acres (yes that is about thirty square kilometres) of land bordering onto world heritage areas, with about 200 acres of good agricultural soil, 3km along a crystal clear river, a 20 acre lake, amazing vistas, and lots of potential didgeridoos!
We will need more members and investors to realise our visions for this land, so if you are interested to participate or help with this project, or know someone who would be, please check out the Kanjini Co-Op website.
Organising the purchase of a multi-million dollar property, especially if it involves seven people, is a major job and kept me out of mischief for the last six weeks :-).
You might be even more interested to hear that the purchase of this amazing property has convinced me that I should sell two thirds of my personal didgeridoo collection. These are the 'crème-de-la-creme' of the tens of thousands of didgeridoos I have played over the last twenty years and if you are interested in buying some of the very best didgeridoos to ever been offered for sale, read more below...
Next we went on a camping trip with family and friends to watch the total solar eclipse which graced Far North Queensland on the 14th November. We camped out west on the Mitchell river, did some swimming and fishing, caught the biggest ever Cherubin (a very tasty freshwater crustacean).
On the morning of the 14th, we got up early and walked to the ridge behind our camp to enjoy clear views to the east. The total eclipse was due to start at 6:38am but already half an hour earlier the sun started to dim and with our eclipse glasses we could watch the moon move across its disk. By about 6:20 to 6:30 the light around us became very golden-orange and it felt very eerie. I could not help but think what Aboriginal people would have thought when they experienced such events thousands of years ago without knowing what was happening. Then in the moment the moon covered all of the sun, a shadow came over the land and all the birds abruptly stopped their morning chorus, it became dead silent (except for the uhh's and ahh's of our exited party) and it became as dark as in a full moon night. We even could see Venus in the sky. It was an incredible experience, especially for those of us who had never experienced one (I was lucky once before to just be in the right spot without knowing and that experience blew my mind). Watching the moon cover all of the sun makes one realise how small and insignificant we are but also how incredibly lucky and blessed we are.
So if ever in your life you have the opportunity to witness a total solar eclipse, do not miss is, it is a very powerful and primeval experience.
Let me get back from exciting personal experiences to things didgeridoo which might interest you and which you can do during the Christmas and New Year period: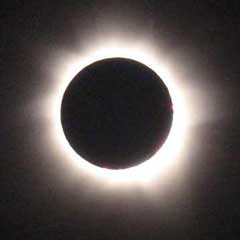 Total Solar Eclipse
- You might want to have a look at the 111 didjes we have currently on special until 25th December, well there is actually only about 75 of them left, the others are already ordered or dispatched.
- You can get two free tickets in our 2012 Didgeridoo Competition which will close on the 31st December. This means that you have only a few days left to answer our 2012 Questionnaire to receive two free entries to the draw of our $1000.- Prize Didj in January. And you will probably enjoy answering those questions as they are interesting and thought provoking, especially if you are into didgeridoos and Aboriginal culture, so please go and make sure you get your free tickets in the January draw of the $1000.- Prize Didj.
- You can earn more entries into the January draw for the 2012 Prize Didj by thinking of and emailing us any questions you would like to have answered by other didj players or by anyone with an interest in didgeridoos or Aboriginal culture in our 2013 questionnaire! Feel free to email as many suggestions as you can think of and you can even send several emails if you think of more later (but we really need to get them this year :-) ). For every suggested question we will use of yours in our 2013 questionnaire you will receive an extra five entries for the 2012 draw for a great didj valued at A$1000, significantly increasing your chances to win!!
- You can look on this world map where in the world we have sold our didjes to and/or read some of the over one thousand uncensored customer testimonials. As many of you know we do not do any advertising, but put all that money into ensuring that our customers get good service and quality didgeridoos and we seem to succeed. So please feel free to tell your friends about us, thank you.
- You can check out our Fan-page on Didjshop.com on Facebook.
- You can post any questions you may have on our Didjshop Forum, or read some of the thousands of posts on everything to do with didgeridoos
- You can find other didgeridoo players or services through our Didjnet, or you can offer your didj-related services there.
- You can read about almost any didj related topic in our Didjshop Comments Sections. There are now so many topics and issues available that this is probably the biggest resource on the internet as far as peoples opinion on didgeridoos is concerned.
- Last but not least, please do participate in the Worldwide Didgeridoo Meditation on 21st December 2012. What a fitting thing to do on the day the Mayan calendar runs out or rolls over into a new era! read more about this below.
Seasons Greetings and please enjoy the rest of this newsletter...
PS: you might want to send your Seasons Greetings to friends and family with a Didjshop Greeting Card and a blast of didj sound :-)
Svargo
Special Offer & Best Didjes Ever on Sale
This year we have decided to give all of you Didgeridoo lover's the ultimate Christmas/New Year present, well actually two Christmas presents.
The first one is what we do most years and that is to give you special discounts on lots of products. Except this year we offer even more and bigger discounts.
First there are up to 50% discounts on teaching videos and DVDs.
Next there are discounts up to 50% on many beautiful canvas paintings. Especially Brad Gosam's dot on top of dot art is simply stunning and in our opinion some of the best looking Aboriginal art. Check out the medium canvas specials and the large canvas specials.
And then there are 5-20% discounts on 111 didjes! So you are bound to find a discounted didj to suit your taste and needs. Check them out.
These discounts are available only until 25th December and you better be quick, over twenty percent of these are already sold.
But the second Christmas present is really special, its a one-off, which will never be able to be repeated.

We have gone through our personal didgeridoo collection which over the last twenty years has grown to about 100 didgeridoos and we decided to sell 2/3rds of them. Yes that is over 60 rare and exceptional didgeridoos which have just been added to our Didjshop Collection Department.
Some of you might remember that years ago we sold some didjes out of our collection. Well at the time we kept quite a few didjes in each key because as experienced players can understand, one didj has better vocals and the other has better overtones, one has better clarity and the other better volume, so we kept quite a few didjes in each key. This time (because we need more money for our new property) we have brutally slashed our personal collection to two or three didjes in each musical key and all the rest goes up for sale.
Believe me these were very very hard decisions to make, and what is our loss is your gain. We are even selling our 20-year old collection of Northern Territory didjes. Yes there is a 1995 Djalu didgeridoo and a 1993 David Blanasi didgeridoo (David told me that he cut this one himself and that it was one of the best he ever made) and some other beauties, and all of the ochre didjes (except the Djalu) are excellent players. I guess most other websites would still sell the Djalu for over $1000.- and call its sound "real muddy" or something like that, we sell this didj for not much more than we paid for it over 15 years ago. I should mention that there is an amazing George Yongawonga didj. Back in the days when I used to retail didjes at the Cairns night market, we sold many Northern Territory didjes and George's were always the best players. And then there is the ochre didj (I forgot the name of the artist) which has not just an awesome sound, but also the finest cross hatching I have ever seen on a didj.
Please note that these ochre didjes are not sealed on the inside nor carry our usual one year warranty. They do however come with native beeswax mouth pieces and a spare piece of native beeswax. That native beeswax has not been taken from wild bees (which is a very unsustainable way of harvesting it as it destroys the whole hive) but from farmed native bee hives.
We also let go of many extremely light sound healing didjes. These are extremely rare didjes weighing in at less than 2.5kg and even down to less than one kilo for a 4.5 foot didj! And they are not just light, they have awesome clarity and resonance and put out powerful vibrations. I doubt that you can find didjes like that anywhere. I have used each one of these sound-healers myself (and taken several of them around the world); and as a didgeridoo sound healer with over twenty years of experience I can assure you that these are the very best naturally hollowed sound healing tools you can find, period. These are such a joy to work with!!! And I can also assure you that I will never sell those few I am keeping now. So if you want an extremely light didj with extremely good sound to make your sound healing work easy on yourself and highly effective on your customers, do not miss this once in a lifetime chance and treat yourself to one of these....
And for the power-players there are many didjes with unbelievable volume, which can pump out rhythms as fast as you like, which have incredible vocals, amazing clarity and/or wonderful overtones.
This is a smorgasbord of didjes which you will definitely never see again. They have been collected over twenty years and are the ' crème-de-la-creme' out of tens of thousands of didjes we have sold and probably about a hundred thousand didjes we have played through to find them. So imagine lining up one thousand didjes and playing through them all and picking the very best, this is what each one of these ~60 beauties is like.
These didjes are more expensive than what our high concerts usually are, but then they are the best of the best and you sure can buy a lot worse for a lot more money elsewhere on the internet :-).
And for those of you who really want one of these very rare pieces, but do not have all of the money right now, we do allow lay-by, simply ask for it when placing your order. Our lay-by conditions are a non-refundable deposit of 20% with the balance due within six month.
Some of these didjes have only just been recorded by Brad and he asked us to apologise as he has not played any didj for the last couple of years, so sorry, but the sound files do not really do justice to the didjes...
As a valued newsletter reader, you can check out the new didjes by CLICKING HERE. Please note you can do this only from this link in our newsletter.
21 December 2012
End of the Mayan Calendar and Worldwide Didgeridoo Meditation
Check out on the world map on the right how many people participated in the last Worldwide Didgeridoo Meditation! This is awesome!
A big THANK YOU to the well over one thousand participants. If any of you have any stories or images to share, please email them to us, thanks.
It is wonderful to see more and more participants in these regular events and not just in Europe and the US but even in unexpected places like Argentina, Bermuda, Bhutan, Colombia, Costa Rica, Cyprus, Ecuador, India, Indonesia, Iran, Israel, Japan, Kazakhstan, Kenya, Latvia, Lithuania, Malaysia, Malta, Mexico, Namibia, Panama, Paraguay, Peru, Russia, South Africa, Sri Lanka, Taiwan, Thailand, Turkey, Ukraine and United Arab Emirates.
This is a good indication of the didgeridoo slowly but surely spreading to the furthest corners of this beautiful planet. It was less than twenty years ago that I could not find anyone in the music-industry business in most European countries who had ever heard about a didgeridoo, so to now see the didj being played in all these new and often fairly small and out-of-the-way countries is overwhelmingly beautiful.
Anyway the next Worldwide Didgeridoo Meditation is on 21 December 2012, which happens to also be the last day of the Mayan calendar.
So lets all cooperate in sending a loud and clear message around the globe that in the next Mayan era humanity shall respect and take care of the land and the environment, just as Australian Aboriginal people have done for thousands of generations (which is why they are still around!).
For those of you who do not yet know, the vision behind this event is firstly to connect didj players all around the world with each other and the earth and secondly to send a wave of didj sound and energy around the globe. This is achieved by every participant playing didj at their local sunset time for 45 minutes and then sitting in silence for 15 minutes. Thus all together we will create a wave of didj sound following the sunset around the globe and with the hundreds of locations all over the world participating we will achieve an almost continuous sound wave. And this is the sound of the earth itself we are sending, it is the most earthly and one of the oldest instruments known to mankind, made by one of the oldest surviving cultures on the planet.
Just imagine, isn't that really awesome!?!?!
So please register as a participant for the next Worldwide Didgeridoo Meditation on the 21 December 2012 and please do tell your friends about it too. Just imagine if we can get every didj player to participate, people would hear didjes in lots of places and start to wonder what that hauntingly beautiful sound is.
Insights and Feedback!
First let me ask you whether you have filled out our 2012 visitor questionnaire yet. If not please do it very soon so you will get two tickets in the January draw of our 2012 Prize Didgeridoo. Entries will close on 31 December.
Next let me share with you just a few of the many testimonials we get each month from our customers:
Louis Kosztelny from Australia: "This one is the best value vis a vis sound quality"
David Hagquist from USA: "No comparison am 714 sounds so much better as a matter of fact I will never buy another didj that is not high concert"
Anonymous from France: "When I blew again in my old didj (can't remember the price, but much lower), I was amazed by its poor sound quality, compared with the so clear sound of my new didj. I understood that I will probably never blow in it again in this fart-making wood."
Jussi Ristonmaa from Finland: "Am922 is Mother Earth's deep voice, very deep and strong vibration. Excellent meditation didj."
Matthew from Australia: "Higher on price, however as the other is not authentic, it's to be expected. Far surpasses."
Robert Froton from USA "am972 has burnt artwork, looks awesome and finish is beautiful. Took a day of playing and adjusting mouthpiece, getting used to different backpressure, but the sound and eventually ease of playing are amazing!"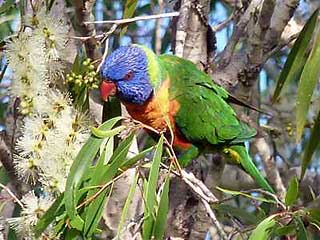 Green Parrot
We publish all those where permission is given and have never censored any of them. You can read through all of them here.
And here just a very small sample of the hundreds of great comments we get about our website:
FIRAT from Turkey: "i find it very useful for people who wants to learn to play didj or improve their technique. And to know about the other didjing people makes you motivated to learn and can change the your looking angle to the life...:) "
anonymous: "I visit this website since 10 years ago. I think that it´s the best didj web that i found very interesting. Congrats"
Eduardo Gonçalves from Portugal: "I found the myths and facts quite interesting because I have actually heard a couple of those"
David Mason from New Zealand: "There's really only one other didge site in the world that I go to check out didges but this one is by far the most comprehensive that I've seen."
anonymous from Denmark: "Simply the most authentic didge shop ever..."
Joshua from Australia: "This Forum is extremely useful and has helped me understand and appreciate more about didj playing;)"
anonymous from USA: "The layout is flawless and the range of didjes is superb! "
We find it very satisfying to be in a business with such high visitor and customer satisfaction and wish to thank all of our visitors and customers for keeping us and our Aboriginal suppliers employed.
You can read through many more visitor comments, including on many different didgeridoo related subjects.
Monthly Winners!
Here are the winners of our monthly A$50 shopping vouchers for the last three month!
October 2012 winner - Paul Fehr from El Paso, USA
Paul had this to say about our Didjshop.com website: "Very easy to use website and I like the Australia on the logo"
November 2012 winner - Doug Stone from Orem, USA
Doug told us that he just made a PVC didj for himself and about our website he said: "I enjoy it!"
Well we trust that now you will enjoy it even more :-)
December 2012 Winner - Gabriel Babin-Young from Vancouver, Canada

Gabriel's feedback was about problems he had with our forum: "I have had issues with logging into my account to view the forums and haven't been able to contact anyone in regards to said issue".
We had a look at that issue and it appears that Gabe never created an account. Our webmaster did communicate with him several times and asked him to please create an account, which still has not happened. So maybe, Gabe, give it another go, because many others have succeeded after you. You also might want to add '*@didjshop.com' (without the quotation marks) to the white list of your email spam handling settings, as that is where our emails ended up...
Congratulations to these winners.
Please note that the draw for the 2012 main prize, a A$1000.- didj delivered to your door, will close on 31st December 2012. So if you have not yet filled out our 2012 Questionnaire, please to do so very soon for your chance to win this beautiful didgeridoo. Your chances to win are much better than in most other competitions or draws.
And if you want to earn more entries for the January draw of the 2012 Prize Didj, please email us any questions you suggest we could ask our visitors about didgeridoos or Aboriginal culture in our 2013 questionnaire!
For every suggested question we will use of yours in our 2013 questionnaire you will receive an extra five entries for the 2012 draw for a great didj valued at A$1000.
Aboriginal News
Here as usual some hopefully interesting stories to keep you up to date with some news on Australian Aboriginal issues:
Traditional Owners to decide Cape York heritage listing
The federal government has put the decision about listing Cape York as a World Heritage Area into the hands of traditional owners.
Green groups have long lobbied for this vast and mostly untouched area in the north-east of Australia to be listed as a World Heritage Area. Mining companies have consistently lobbied against any such listing and Aboriginal people living on Cape York have been influenced by both sides. For the federal government to leave it up to traditional owners to decide whether any areas will be listed and if yes which ones appears to be a smart move.
Mining companies are trying to convince the traditional owners that they will loose out on jobs and mining royalties if they list their land and green groups are trying to tell them that they will attract more tourism if they do. What we find interesting is that the debate is mainly about more money now, rather than the moral obligation of traditional owners to look after the land for future generations...
The deadline to lodge World Heritage applications with UNESCO is in February 2013. Lets hope that enough traditional elders will nominate their country so it will be looked after and not dug up...

Bush Turkey

Two Aboriginal teens taken by crocodiles
In two separate incidents about two weeks apart an Aboriginal boy and a girl were taken by crocodiles in Northern Territory waters.
In the first incident, a seven year old girl was taken by a croc when swimming with her family in a billabong near Gumarrinbang, about 350km east of Darwin.
A crocodile was found and shot at the billabong the next day, which turned out to be the offending animal. For those of you who do not know, a billabong is Australian slang for a waterhole in an otherwise dry river.
In the other incident a nine year old boy was taken by a crocodile when swimming near Port Bradshaw, near Nhulunbuy, about 650km east of Darwin. Others in the group tried to spear the croc, but the boy was dragged into deeper water and the croc disappeared with him.
It was later revealed that the 13-foot crocodile was well known to the community since about 20 years and some people used to feed it. The Gumatj clan considers the saltwater crocodile their totem and we have heard stories of Yothu Yindi singer Galarrwuy Yunupingu (see Yothu Yindi story below) having fed this particular crocodile before. The search for the croc was suspended three days later and it appears that no-one really wants to find it and remove it any-more.
I was reminded by these news of a story I was told a long time ago by Aboriginal people living in the Northern Territory. When they crossed rivers, the oldest and weakest people used to go at the back so the croc got them and not the children.
It appears that remote Aboriginal communities in northern Australia have to come to terms with the huge increase of the crocodile population due to their total protection.
Lockhart River crash
Back in 2005 just north from here a plane crashed on approach to the Lockhart River airstrip, killing five Aboriginal people on board.
The Cairns Supreme Court has recently awarded compensation of $500,000 to four families of the deceased and $388,255.20 to the fifth family.
This decision by Justice Henry is interesting and significant in as it provides recognition of the value of parts of Aboriginal culture and recognition of Aboriginal People in wider society.
Firstly the court established that traditionally adopted children are not entitled to any compensation because existing legislation does not recognise them as family. We hope that this shortcoming of the law will be addressed by the parliament recognising the status of such traditional adoptions in western law.
Secondly the court quantified the compensation.
The families claimed for loss of traditional hunting and fishing, which was accepted by the court to be qualitatively different from the "occasional fishing trip to which some urban dwellers recreationally aspire". The court has thus placed a monetary value on the traditional skill to provide food.
When the projected income of the deceased was to be calculated, the defendant tried to have it discounted due to "lower life expectancy and higher incident of health problems of indigenous persons". However the judge rejected those arguments and stated that Indigenous persons form part of the broader overall population and the general statistics should not be disregarded merely because a case involves indigenous persons.
We welcome this judgement not just for the families involved but as a precedent for Aboriginal people in general.
Taxi for Gurrumul
Last week in Melbourne a taxi was called to the side stage door of the Palais Theatre in St Kilda. When the taxi drier saw that one of the waiting passengers was an Aboriginal person, he locked his car and drove off, refusing to take the fare.
To add insult to injury it appears that the taxi driver was either Indian or Pakistani, so himself being from a minority which is often discriminated against in Australia.
What the taxi driver did not know is what honour he just missed out on. The taxi was called for world-famous singer Geoffrey Gurrumul Yunupingu who is blind and was taken to the taxi by his manager Mark Gross.
While Gurrumul took it in his stride and patently waited for another taxi to come, let us hope that incidences like this will become a thing of the past.
Yothu Yindi now in ARIA Hall of Fame
Well-known Aboriginal band Yothu Yindi has just been inducted into the ARIA Hall of Fame. Yothu Yindi was formed in 1986 in Yolngu country near Yirrkala, Northern Territory. Yothu Yindi succeeded in creating an electrifying fusion of traditional and western music, which took the world by storm and helped to introduce the didgeridoo as a funky musical instrument as well as promoting Aboriginal culture not just to the world but also to more Aboriginal people here in Australia.
Seven members of the original band were at the award ceremony in Sydney last week. Our current Federal Minister for Education, Peter Garrett was the lead singer of the rock-band Midnight Oil, which actually went on tour to the USA together with Yothu Yindi in the late 80's. Peter commented on the success of Yothu Yindi and in particular on their song "Treaty". This song was written after Australian Prime Minister Bob Hawke pledged to recognise Australian Aboriginal people in the late 80's. Sadly this has still not happened and the promise by our last Prime Minister Kevin Rudd to recognise Aboriginal people in the Australian constitution has been put on the back-burner again by the current government. Let us hope that it will not take another twenty years for Australian Aboriginal people to get their treaty and in the meantime lets enjoy the songs of Yothu Yindi!!!
Seasons Greetings and keep on didjing until our next newsletter ...
from Svargo and the DIDJSHOP.COM team
To unsubscribe, please visit our subscribe / unsubscribe panel
Use the same online control panel to update your email address, or to switch between HTML and plain text email format.