2012 Didj Prize Winner and 2013 Monthly Winners!
Since this is the only newsletter in 2013, we got a lot of winners to announce from our yearly and monthly competition for shopping vouchers and a free didj (including delivery).
For your chance to be the next winner of our 2012 prize didj (worth $1400), simply answer some interesting and thought provoking questions in our 2013 questionnaire.
The lucky winner of last year's prize didj was: Joel Benge from Forest Hill, Baltimore, USA
On the right is a photo of Joel with his didj and here is his comment on winning:
"I was both surprised and thrilled to receive the email notification that I had won the 2012 didgeridoo. I almost dismissed it as a hoax until I saw the address and remembered signing up for the Didjshop.com newsletters.
I was so pleased to receive the shipping and delivery notification so quickly after providing my address.
I tore open the box and marvelled at how beautiful the didj is! It is incredibly well crafted and the painting is so intricate. The artist, Brad Gossam, should be very pleased with this piece! I feel very blessed to have it.
While I haven't come near to being able to play to the point where I'd feel comfortable showing anyone, I have been able to manage a decent drone and can sustain it for several seconds. It's a start, right? Circular breathing is intimidating to me. However, I never imagined I would actually own a real, Australian didgeridoo. So I can hope for the impossible and work toward achieving circular breathing.
I am already planning on investing in another didj to be my daily player. My family and friends already think I'm obsessed, so why not start a collection, eh?
I'm attaching photos of myself with the didj at Rocks State park, our local wilderness spot. I can't wait for the weather to warm up so I can climb the King and Queen's Seat, a large rock outcropping, and play my didgeridoo into the cavernous valley below for everyone to year. I'll update with picture of that. Also, my three-year-old son has already shown an interest in learning. Do you have any pee-wee sized didjes?"
Here are the winners of our monthly A$50 shopping vouchers for February to October (two more draws to go this year)!
February: Vit Michalcak from Netvorice in Czech Republic
Vit got his winning entry when he bought one of the nearly 50 didgeridoos which he got from us over the last three years, so it was almost inevitable that he would win one day :-).
We know from Vit's questionnaire comments and his emails that he has "never seen better didjes elsewhere" and is very happy with his "fantastic" Didjshop.com didjes, which is why he keeps on coming back for more.
Well Vit, thank you very much for your trust and support and we are glad you finally had a small win for all the entries you automatically get when buying from us.
March: Robert Froton from Klamath Falls in USA
Robert got his winning entry when he signed up as a Didjshop affiliate
But he also is a customer who gave us top marks and made these comments after his purchase: "service was top notch" and "I can play much better with my Didjshop didj and sound quality and clarity still blow me away. Great value if your serious and want the best." and "am972 has burnt artwork, looks awesome and finish is beautiful. Took a day of playing and adjusting mouthpiece, getting used to different backpressure, but the sound and eventually ease of playing are amazing!"

Congratulations Robert on your win and thanks for promoting us on your website.
April: Robert Bangs from Winnipeg in Canada
Robert is one of the growing number of people taking up didj playing for health reasons and it is already helping him with his breathing
Robert had this feedback on our website: "I find it very informative. Like looking at the didjes for sale and dream."
Hopefully this win will help a little bit to turn your dream into reality...
May: Steve Schofield from Sydney, Australia
Steve got his entry when answering our 2013 questionnaire and here is his Didjshop.com comment: "Brilliant. I am amazed that it actually works. I thought i had to be taking a huge gamble paying all of that money for an instrument that i had not touched or seen. But the detailed reports on each instrument gave me the confidence to commit and i am really pleased with the outcome."
And here is Steve's "Amazing. I heard it at an Aboriginal dance show near Cairns. I have never heard it played like that since. I wish i knew who it was!"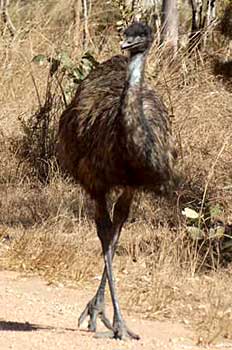 Emu
The dance show is Tjapukai Dance Theatre and in the nineties the didj player was most likely David Hudson, I'll tell him next time I see him :-
June: Jan Vermeer from Naaldwijk in the Netherlands
Jan has been a regular visitor on our website since over ten years and this is his latest comment: "fun and informative side with lots of features. Very interesting"
Glad to see that luck has finally caught up with you :-)
July: Peter Huber from Lichtenwald in Germany.
When Peter heard that we were going to Europe a couple of years ago he insisted that we visit him and we hold fond memories of his hospitality.
Peter made this comment about didj health effects: "Because a very big cancer surgical and chemical time I got very big mental problems. To get the vibrations and the spirit of my authentic and original didge gives me the power back to fight against my visitor. Thank you for delivery that didgeridoo"
Thanks Peter for everything you have done for and shared with us, and may this lucky win be a small start to more winnings in health and other things in life.
August: Maria Evangelina Benaglia Ferreyra from Buenos Aires in Argentinia
Maria comments: "I'm trying to buy one from you if I find where you can send it to". Well we can send a didj right to your door, Maria and have done so for a few customers in Argentina.
In regards to the healing effects of the didj, Maria says: "I am calmer more centered more spacious"
Looking forward to hear from you when you redeem your shopping voucher, Maria.
September: Riccardo Conti from Trieste in Italy
Like most winners this year, Riccardo got his winning ticket when he filled out our questionnaire
Riccardo's feedback on Didjshop.com: "New fresh and interesting"
October: Graham Hooker from Turangi, New Zealand
On our website Graham said: "I look forward to the newsletters and website info"
Most interesting is Graham sharing his perceptions and impressions of Australian Aboriginal people: "Having Senator Neville Bonner as a member of the greater family was very impressed with his cultural beliefs and his acceptance of us as white people not knowing his cultural beliefs."
Neville Bonner was the first Aboriginal person in parliament and held his senate seat for more than a decade.
So thank you for sharing that story, Graham and congratulations on your win.
Congratulations to these winners.
Please note that the draw for the 2013 main prize, a A$1400 didj delivered to your door, will close on 31st December 2013. So if you have not yet filled out our 2013 Questionnaire, please to do so very soon for your chance to win this beautiful didgeridoo. Your chances to win are much better than in most other competitions or draws.
And if you want to earn more entries for the January draw of the 2014 Prize Didj, please email us any questions you suggest we could ask our visitors about didgeridoos or Aboriginal culture in our 2015 questionnaire!
For every suggested question we will use of yours in our 2013 questionnaire you will receive an extra five entries for the 2013 draw for a great didj valued at A$1400.