The Didj Shop: Artists and Ethics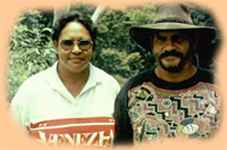 Lewis (Ewamian tribe) and
Willanjirri (Dunjgar tribe)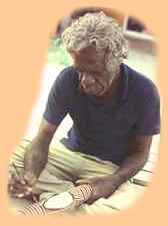 David, Gunninggurr tribe
It is our company's policy to further the Aboriginal cause and all didgeridoos and other Aboriginal arts and crafts on this web site are guaranteed to be made by Aboriginal people.
There is a big interest today in Aboriginal art with two distinctly different consequences.
The first is that a lot of non-Aboriginal people jump on the bandwagon in very unethical ways to make a quick profit on Aboriginal Culture without returning any money to the Aboriginal people.
Many non-Aboriginal people go out and cut didgeridoos on state forest or even Aboriginal land, almost all of them without permission of the Aboriginal elders or forestry permits. Many go with chainsaws, mowing whole forests down to find some hollow trees, without any consideration for nature or the Aborigines. Non-aboriginal people copy Aboriginal art, paint Aboriginal designs, even sell them as such without permission or royalty payments. Aboriginal people feel very hurt and cheated by these actions.
The vast majority of Aboriginal art products are not made by Aboriginal people, nor does any money from the sale of these items go to the Aboriginal people. It is an exploitation of Aboriginal culture.
A lot of so-called Aboriginal art is produced in Asian countries or by Asian immigrants and then sold to tourists or overseas.
Peter, Girramiy tribe
Re-connected
The second consequence of the growing interest in Aboriginal Art and Culture is that the Aboriginals themselves are getting reconnected with their culture.
Many Aboriginals in Australia have been, or still are, on welfare payments. So this growing interest is a beautiful opportunity for Aboriginal people to create their own business and, at the same time, to get in touch again with her/his ancient culture, to re-learn some of the old skills and to find some new meaning in their lives.
Sadly many of them find it hard to sell their art, as most shop keepers and specially wholesalers rather deal with non-Aboriginal people. There is also no reliable system in place to label Aboriginal art making it easy for many in the industry to deceive their customers into believing they are buying Aboriginal art. In some of our large local Aboriginal culture businesses you can even buy so-called Aboriginal art made in Indonesia from an Aboriginal shop assistant.
We really would like you to consider this issue when you buy any Aboriginal art and ask you to ensure that you support Aboriginal people with your purchase.
Some of our Artists and Producers
Please Note: We respect the wishes of many of our suppliers to not publish their picture and/or their names.
| | | | | |
| --- | --- | --- | --- | --- |
| | | | | |
| Gundoii, Jidinji clan | Judy, Kuku Yalanji clan | Lilian, Birri-Gubba clan | Phil, Jidinji clan | Steven Simon |
| | | | | |
| --- | --- | --- | --- | --- |
| | | | | |
| Rodney | Noelene, Muddie Muddie clan | Brad, Jittabul clan | Kevin, Muddie Muddie clan | Jerry |
Appeal by our Aboriginal Artists to help stop cultural theft:
We believe that most buyers of Aboriginal art would not buy imitations if they would be able to recognise them as such. The Australian government however refuses to protect Aboriginal cultural heritage by enforcing mandatory labelling of Aboriginal art and artefacts which clearly states the Aboriginal heritage of the artist and/or producer.
So we want to appeal to you to please not buy any Aboriginal artefacts which were not made by Aborigines. If you want to buy a genuine didgeridoo, please make sure it was harvested by an Aborigine and that any Aboriginal art on it was done by an Aborigine.
Please support our people and our culture by not giving your money to non-Aboriginal didj cutters and/or non-Aboriginal people stealing our art.
Thank You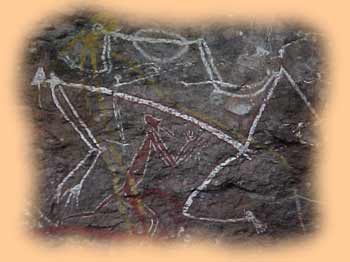 Aboriginal Rock Art from The Northern Territory
We have also assembled a few Aboriginal Dreamtime stories from our artists' tribes.
Home | About Us | Checkout | Community | Help | Information | Shopping
Didj Forum | Send a Didj Greeting Card | Guest Book