How a Didgeridoo is Made - Myth and Facts
In our 2008 visitor questionnaire we asked people whether and if yes what they tell their friends or audiences about how a didgeridoo is made.


Very rare didgeridoo made from a dead tree
Reading through the hundreds of responses we realised that there are obviously many urban legends (or should we say bush legends?) about how a didgeridoo is made.
Thanks to everyone who shared their knowledge and beliefs about didgeridoo and thus contributed to that resource and especially to those who allow us to look at some of the many myth about how a genuine didgeridoo is made and set the facts straight.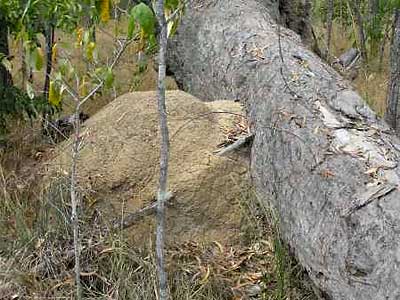 Termite Nest engulfs a dead branch
MYTH: "A didgeridoo is harvested from a dead eucalyptus tree"
FACT: Almost every genuine termite hollowed didgeridoo is made from live trees. You might be interested to know that most of those cut trees will re-shoot and grow again.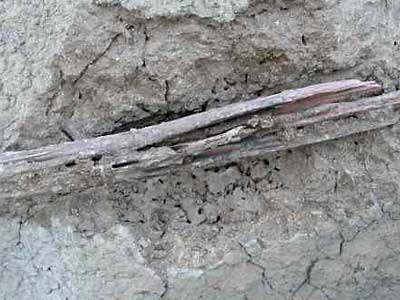 Wood left in termite nests is often eaten form the outside, making it useless for didgeridoo making
MYTH: "A didgeridoo is made from a branch"
FACT: While the odd didgeridoo is made from a branch almost all are made from the stem of young eucalyptus trees. You might be interested to know that eucalypt trees will sprout again even when totally cut close to the ground.
MYTH: "You put a tree branch into a termite mound  and they will then eat it out" In variants of this myth the log is to be turned and twisted to ensure even hollowing by the termites.
FACT: This is another old and very widespread but totally wrong bush myth.
We have never heard of anyone actually successfully making a didgeridoo in this way. A genuine didgeridoo is made from trees which are hollowed by termites while they are alive.
MYTH: "You bury the didgeridoo under the ground and the termites will hollow it out."
FACT: If you bury a tree trunk or branch under the ground and the termites do like it, they will eat the lot. Termites eat only the inside of trees and branches because they are very sensitive to light and need to stay away from sunlight, so underground they can and will eat the whole log.
MYTH: "An authentic didgeridoo is made from a eucalyptus branch that has been hollowed out by termites as the branches lay on the ground"
FACT: Similar to burying, where the branch touches the ground, it will rot or the outside will be eaten by the termites. Either way you get holes and a lower quality didgeridoo.
MYTH: "Original ones are naturally made by termites eating the inside only of a particular tree", some believe that a 'proper' didgeridoo should be a Bloodwood, yet others believe it must be a Woolybutt or some other Eucalyptus species.
FACT: A genuine termite hollowed didgeridoo can be made from many different eucalyptus varieties and also from some other tree species. Eucalyptus is the preferred timber to make a didgeridoo because it is very hard wood giving good resonance and timbre. Some didgeridoo sellers try to spread rumours that only certain species can or should be used to make a didgeridoo or are 'the best to use', which happens to be the species they are trying to sell. We have handled tens of thousands of didgeridoos and for any great didgeridoo made from one particular timber species we can show you one just as good from several other timber species.
MYTH: "A didgeridoo usually comes from Arnhem land"
FACT: This is like saying that cheese comes from Emmental. While some didgeridoos are made in Arnhem land, many more didgeridoos are made in other parts of the Northern Territory and even more didgeridoos are made in other states around Australia. A genuine didgeridoo can be found wherever there are termites which is in most areas of Australia. Significant didgeridoo quantities are harvested in WA, NT, QLD, NSW and Victoria.
A variant of this myth is that the didgeridoo was invented or first used in Arnhem land. While this is certainly possible, there is simply in-sufficient evidence to make such a categorical statement and some of the oldest known didgeridoo specimens actually came from Far North Queensland. Again such rumours are usually started and/or spread by people who sell Arnhem land didgeridoos and have a commercial interest to make their products look better.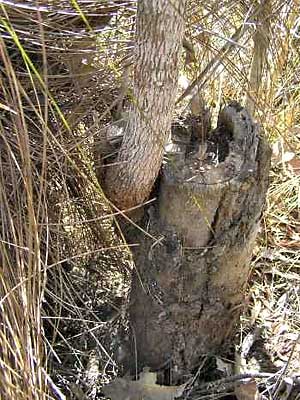 Eucalyptus trees generally regrow, even if totally cut off
MYTH: "There is a termite that lives in a small region in the outback that eats the insides of eucalyptus trees"
FACT: It is true that termites eat the interior of eucalyptus trees, however many different species of wood eating termites in most areas in Australia create potential didgeridoos. This seems to be another myth spread by people who have a vested interest in you believing that "real" didjes should only come from one small area in Australia (usually where they are harvesting or selling from).
MYTH: "During the rainy season termites are flooded out of their earthly dens and forced up into trees, they then eat the wood"
FACT: Termites usually do not build their nests in flood-prone country simply because the floods will kill them. Flooding is not the reason termites hollow out didjes. There are different termite species, some of whom do build their nests high in the trees, however most didgeridoos are made by ground dwelling termites.
MYTH: "A didgeridoo is made by termites partly eating out logs. Then hot coals or hot metal bars are used to clean it out, other people believe all of the central hole is burned through the log."
FACT: This is a very old and widespread bush myth which is totally wrong.
My son spent weeks trying to widen a partly narrow termite hole in a log with coals and hot metal rods and failed. It resulted in the coals igniting the log long before they make or enlarge an existing hole through the centre of it.
We have seen tens of thousands of didjes, but never a single didgeridoo that was made this way.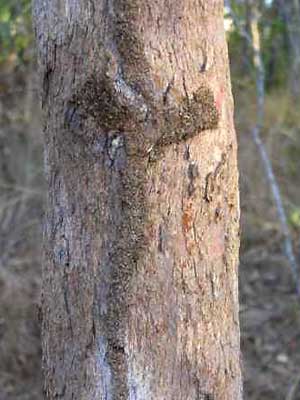 Termites cover their tracks to preserve moisture and because they are very sensitive to sun light
MYTH: "A didgeridoo is made from Eucalyptus which has been hollowed out by termites eating only the pithy inner core but stopping at the hard wood - which is poisonous to them"
MYTH: "usually termites eat the soft wood inside the harder exterior of the tree"
FACT: As with all trees the softwood of eucalypts is on the outside and the hardwood on the inside. Eucalyptus is actually extremely hard timber (which helps to give good sound to a genuine didgeridoo), but termites have no problem with that. There is no natural wood known to be poisonous to termites; there are timbers which are more or less preferred but we have seen termites eating even cypress pine.
MYTH: "The finest playing didjes are authentic, Aboriginal-crafted didgeridoos"
FACT: While there are undoubtedly many fine playing didgeridoos made by Aboriginal people, one needs also be aware that there are many poor playing didgeridoos made by Aboriginal people. While we totally support everyone buying a didgeridoo that is made by an Aboriginal person, this is not really an indication of the sound quality of the didgeridoo.
MYTH: "They are cut to a musical key"
FACT: Almost all didgeridoos are not cut to a musical key. In fact most didgeridoos are sold without being tuned. There is still only very few didgeridoo makers who actually tune their didgeridoo and we do not know of any Aboriginal person doing so (while our didgeridoos are harvested and made by Aboriginal people, we do the tuning).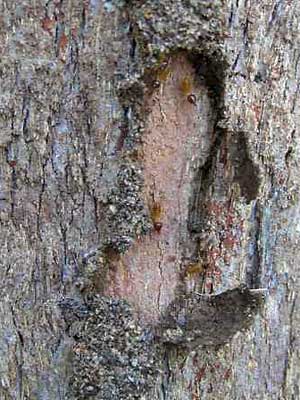 Soldier termites exposed by removing the roof of their tunnel
MYTH: "The bark is then stripped and then the didgeridoo is soaked in water to check for holes and cracks which is then filled with bees wax"
FACT: Soaking a didgeridoo in water significantly increases the likelihood of it cracking later. Holes and cracks can easily be found by feeling or sealing the mouth over suspect areas and trying to blow or suck air. Traditionally holes and cracks were probably filled with resins rather than beeswax; beeswax is not a reliable long-term solution to fill holes and today's best didgeridoo makers use sawdust and wood glue mixes.
MYTH: "Most didgeridoos have simple bands of colour or no colour at all. Dot painting is used to attract tourists to buy some lower grade didgeridoos and was for decoration of rocks and bodies not didgeridoos."
FACT: Overall most didgeridoos are probably painted. Some didgeridoos might have simple bands of colour simply because the maker cannot be bothered to paint them any better or in the case of some Aboriginal makers because he is not initiated to paint animals and/or more intricate designs. I have been told by Aboriginal elders that traditionally a didgeridoo painted for ceremony has very intricate artwork, but they might be burnt or the art washed off after use in secret ceremonies.
In any case the type and quality of artwork does not reveal anything about the sound quality of the didj. While it is true that some lower grade didgeridoos are painted with dot or other Aboriginal art (sadly often done by non-indigenous artists), there are certainly also very high quality instruments which are decorated with dot painting.
MYTH: "It's the most ancient instrument, originated in the Australian Aboriginal community over 50 000 years ago"
FACT: While this could be true, there is no real evidence to suggest that the didgeridoo was used since over 50,000 years. There is evidence that Aboriginal people have lived in Australia since at least forty to fifty thousand years and possibly even 60,000 years, but since didgeridoos are made from wood which does not last very well, especially in termite country, we do not know of a single ancient didgeridoo that was ever excavated. There are claims that ancient rock paintings depicting didgeridoos are 2000 or even 20000 years old, but we have never seen a photo of any such painting and there is simply not enough evidence to make any definite statement about when the didgeridoo was first used. When asking several Aboriginal elders from FNQ and NT, I was told that the didgeridoo was never depicted in rock art because it is too sacred.
You can read some more information about general Didgeridoo making and also about the additional efforts which go into each Didjshop.com didgeridoo.
Home | About Us | Checkout | Community | Help | Information | Shopping
Didj Forum | Send a Didj Greeting Card | Guest Book